Charles (Charlie) Tapp - Musical Bio

Began playing drums at the age of 5 and playing professionally as a teenager. Started 6 nights a week at The Sands Nightclub in Fort Wayne Indiana after High School graduation in 1974.
Co-founded the group Christmas with Mark Robertson, Jeff Pilson and Bruce Hazen in 1977. The group played concerts at the Seattle Center, Seattle Concert Theater, various clubs and colleges in Washington State along with a live radio broadcast on KZOK FM in June of 1979.
Studied Voice, Theory, and Keyboards for 4 years in Seattle with Maestro David Kyle (Tony Bennett, Johnny Mathis, Vic Damone) through 1981.
In 1980, joined Randy Hansen and, along with Scott Rosberg, recorded "The Randy Hansen Album" on Capitol Records at The Automat in San Francisco, California. Produced by David Rubinson and Engineered by Lesile Ann Jones. Played two North American tours which included several coliseum shows with Bob Seger, Sammy Hagar, REO Speedwagon, Head East, Triumph, Poco and Blue Oyster Cult.
Moved to Northern California to play in Cinema with Mark Robertson, Jeff Pilson and Mike Varney in 1981.In 1982, joined Timmy who, with Andy West (Dixie Dregs), recorded an EP in 1984 in Atlanta, GA with producer Eddie Offord (Yes, ELP). Timmy opened for The Dixie Dregs several times and recorded many original songs. "The Atlanta Project" recording was released in 1999.
In 1987 formed The Tapp with Rob Neumann on Guitar and Chuck Steaks (Quicksilver Messenger Service, Todd Rundgrun) on Keyboards and Keybass. Along with recording an album of original material, the group played clubs and concerts in the San Francisco Bay Area and re-recorded Wipeout by The Surfaris with original Wipeout producer Dale Smallin in 1991.

In 1997, started the independent music label Rudolf Music in Sonoma County California that has released:
Charles Tapp - "TAPP"
1999: Timmy - "The Atlanta Project"
2000: Randy Hansen - "Thinking Of You"
2003: Christmas - "Live In Seattle"
2004: Concerned Citizens - "Bye Bye Bush"
2005: Charles Tapp with Alec Fuhrman and Steve Evans - "Christmas Songs"
2007: Christmas - "Oh Christmas Tree"
2008: Randy Hansen - "Thinking Of You"
2008: Randy Hansen - "Live In Boston December 1980"
2008: The Tapp - "Super Surveillance Central"
2009: Christmas - "3 Ships"
2010: Christmas - "Silent Night"
2011: Christmas - "Free Christmas CD"
2012: Released "One Man's Challenge" Documentary from 1962 featuring The Beach Boys Live now on DVD and Digital Download
2013: Christmas - "Linus And Lucy Freeway Jam"
2014: Christmas - "Pavlov's Demo"
2015: Christmas - Singles; "Love One Another" & "Sussex Carol"
2016: Christmas - Singles; "One World" & "Hallelujah Chorus"
2017: Christmas - "One World Love One Another"
2019: Christmas - Single; "Donkey And Me"
2020: Christmas - Single; "To A Better Place"
2021: Christmas - Single; "Ode To Joy"



Rudolf Music




Santa Rosa,
California 95403
USA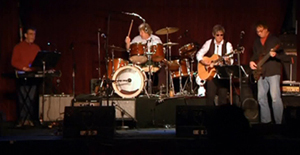 Home