Christmas (the band) Bio
Christmas the band began in Seattle Washington in 1977. The first live concert was a benefit for the Children's Orthopedic Hospital at the Bellevue Community College in December of 1978. The line up was Bruce Hazen Guitar, Bass, Pedals and Vocals, Mark Robertson Keyboards and Vocals and Charles Tapp Drums and Vocals. The group played several concerts in the Seattle area as well as a live radio show on KZOK FM in 1979.
This century a CD of that 1979 broadcast was released by Rudolf Music in 2003 and is available at iTunes, Amazon and other outlets along with more CD's by the band: Oh Christmas Tree - 2007, 3 Ships - 2009, Silent Night, - 2010 and Linus And Lucy Freeway Jam - 2013. There is also a Free Christmas CD at the Rudolf Music website available for download that contains songs from each. The music is a blend of traditional and new Christmas and other music in a Rock, Jazz, Progressive Rock style.
Pavlov's Demo was recorded in 1979 at Pavlov's Dog's studio in West Seattle Washington with Jeff Pilson on Bass, Guitar, Pedals and Vocals along with Mark Robertson Keyboards and Vocals and Charles Tapp Drums and Vocals. It was released in 2014 along with a new single entitled Love One Another. Christmas the band played 2 live benefit concerts for the Redwood Empire Food Bank in Santa Rosa, California. The lineup was Alec Fuhrman Guitar and Vocals, Peter Penhallow Keyboards, Rob Fordyce Bass and Vocals, and Charles Tapp Drums and Vocals. This particular group of musicians has a deep history in this genre of music and have known each other for many years living in the San Francisco Bay Area. Alec Fuhrman played with Rob Fordyce and Mark Robertson in the Progressive Rock Band Cairo. Peter Penhallow played with Charles Tapp, John Harrison and Andy West in the Progressive Rock Band Timmy.



New in 2016 was an instrumental version of The Hallelujah Chorus that is included in a full length CD released in November 2017 entitled One World Love One Another.The single Donkey and Me was released in December 2019 and is a musical version of The Nativity as seen through the eyes of Joseph

. For December 2020 - To A Better Place. July 2021 - Ode To Joy.

August 2022 - Toyland / March of the Toys.

Christmas (the band) Discography
EP's
Single's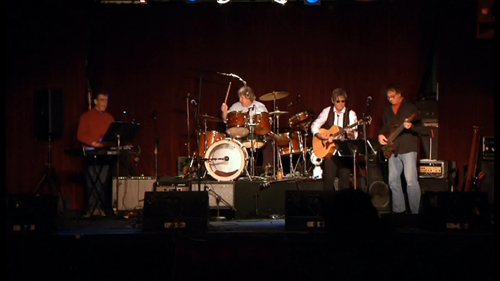 Rudolf Music
Santa Rosa, California 95403