"One Man's Challenge"
A documentary that includesThe Beach Boys performing live in 1962.
The first known video of The Beach Boys performing "Surfin' Safari" live
Brian, Dennis and Carl Wilson, Mike Love, and David Marks
EXTREMELY RARE FOOTAGE
Originally published on VHS in 2000 by Rudolf Music

This is a documentary film about one man's challenge to open a California teen club in the early sixties. Produced, written and directed by Dale Smallin this black and white film offers a real life glimpse of the early sixties with The Beach Boys performing live at a real teen club wearing Pendleton shirts.
Actual Live Performance

Recorded Live at the Azusa Teen Club

Azusa California - July 27, 1962

Running Time 24 Minutes
Original instrumental background music throughout the film by The Beach Boys and The Raindrops. Opening theme "The Hitchhiker" by The Genteels, courtesy of Capitol Records. Appearances also by Johnny Crawford and Gene Weed. Narrated by Roger Christian.
This copy is from the archives of Dale Smallin, who created the film. Dale Smallin, a year later, produced Wipeout and Surfer Joe for The Safari's and is the man who did the laugh at the beginning of Wipeout. Mr. Smallin passed away in Sacramento, California in 2011. This video has been licensed for distribution by Rudolf Music. Copyright 2000-2013 All Rights Reserved.
Full Documentary from 1962 now available on DVD at CD Baby
or for digital download at MoPix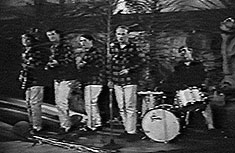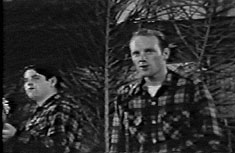 This digital copy has not been remastered and there is a slight blurb at the beginning of the Beach Boys performance.
Aside from that, it's The Beach Boys recorded live in the summer of 1962 with just 2 mics soon after the Surfin' Safari demo and just before they signed with Capitol Records.


Jon Stebbins writes about the film at page 46 of his biography of David Marks, "The Lost Beach Boy."
On July 28, 1962 the group's performance at the Azusa Teen Club of "Surfin' Safari" was filmed for this "low budget documentary examining
the growing Southern California phenomenon of teen delinquents with too much time on their hands. In the film,
the Azusa club is held up as an example of a place where young people could gather to blow off steam
while dancing to their favorite combos. This is the only known performance footage of the Pendleton-shirt era Beach Boys .
During the performance, David is seen smiling, tossing his surfer cut, and chopping away on his sunburst Fender Stratocaster."

Customer quote: The video made me cry. (The BBs
were so young!) It's a great addition to my unusual memorabilia collection.
Thanks again, Love, Care :~)


---
Also available
Surfin' Safari Live 1962 MP3
MP3 Sample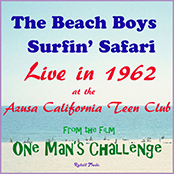 at CD Baby, iTunes, and Amazon.com

Links:
International Movie Database
IMDb

From the book:
Hollywood Rock: A Guide to Rock n Roll in the Movies
15-Star Movies from 1959-64
Listed #7 at The Idolator Music News Site
From The Beach Boys Fan Club
Tour Dates
---