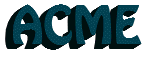 Update December 2009 - Under New Ownership
The Original Acme closed in the Summer of 2009
This webpage was originally posted in 1997
---
Menu
(from 2007)
Items and prices subject to change
Thanks for the memories!!

Nick and Selma Cozmas and family

Mike and Cathy (Cozmas) Tapp and family
APPETIZERS
DELUXE NACHOS Half 6.99 Whole 9.99 Generous portion of tortilla chips with beef or chicken, refried beans, cheese, lettuce tomato served with salsa and sour cream.
QUESADILLA Half 6.99 Whole 9.99 Golden brown flour tortillas filled with lots of cheese, zesty sauce and your choice of fillings: Chicken, or mushrooms. Served with sour cream and salsa.
JALAPENO POPPERS (6) 5.99 A taste sensation! Cream cheese filling.
CHICKEN STRIPS (6) 6.99 Juicy all white meat deep fried golden brown and served with BBQ sauce.
DRUMMETTES (8) 6.99 Tender and juicy chicken drummettes served with tangy BBQ dipping sauce
BACON CHEESE FRIES 6.99 With sour cream.
POTATO SKINS 7.99 Simply delicious. Topped with cheddar cheese and real bacon. Served with sour cream.
ONION RINGS 3.99 An old fashion favorite – deep fried to a golden brown.
MUSHROOMS 4.49 Mouth watering deep fried mushrooms served with a tangy cocktail sauce.
CAULIFLOWER 4.49 Real cauliflower fried golden brown and served with our special sauce.
ZUCCHINI STICKS (12) 3.49 A delicious taste treat. Served with a tangy dipping sauce.
MOZZARELLA STICKS (6) 5.99 Real mozzarella cheese sticks deep fried to a golden brown.
PIZZA BITES (8) 4.99 A zesty taste of Italy in a golden brown cheese ball.
THE NIBBLER 8.99 An ACME favorite! Combination of onion rings, french fries, mushrooms, cauliflower, zucchini sticks, mozzarella sticks, jalapeno poppers, and pizza bites! Served with our tangy dipping sauce.
CHEESE BREAD 3.95 Thick slices of warm bread topped with mozzarella cheese melted to a golden brown.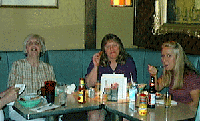 Susanne, Cindy & Sarah Noelle
DINNER SUGGESTIONS
(All Dinners include: Choice of Potatoes or Vegetables; Choice of ACME Salata or Dinner Salad
or Cup of Soup and served with Bread and Rolls, Butter and Coffee or Tea)
ICELANDIC COD FISH DINNER Mate's Portion 9.99 Dinner 11.99
A special treat for fish lovers. Breaded or Broiled.
SALMON 2 lightly browned patties 12.99
JUMBO SHRIMP 12.99
A favorite with shrimp lovers. Served with tangy homemade sauce.
21 PIECE SHRIMP DINNER 8.99
Deep fried, served with tangy homemade sauce.
NEW YORK STRIP STEAK What a treat for meat lovers 20.00
PRIME RIB Light Cut ½" 15.50
Made the old fashion way. Creamy horseradish sauce available. Generous Cut 1" 22.00
ACME Cut 1 ½" 28.00
CHOICE T-BONE STEAK 18.00
20 oz. Carefully cooked to order
BAKED SWISS STEAK DINNER One Piece 6.99
Just down right tasty. Two Pieces 8.99
GRILLED HAMBURGER STEAK 7.99
Full ¾ pound pure beef. Fried onion .60 extra.
SIRLOIN STEAK DINNER 7.95
6 oz. Steak, cooked to your taste.
GRILLED CENTER CUT PORK CHOP 8.99 (2) 10.99
Generous portion, the other white meat.
GRILLED BREAST OF CHICKEN Petite 6.99
Simply delicious Twice Chicken 9.99
CHICKEN FILLET STRIPS (5) 8.99
Delicious chicken breast strips, deep fried.
FAVORITES
All Platters add $1.99
Platters are served with French Fries and choice of Apple Sauce, Cottage Cheese or Cole Slaw.
All Hamburger items are made with Fresh Pure Ground Beef.
Any Burgers with Mushroom and Bacon add $1.50.
1. ACME PRIDE – DOUBLE BURGER Two ¼ lb. Burger patties 4.99
SUPER PRIDE ¾ lb. Burger pattie 5.99
ULTIMATE PRIDE 1 lb. Burger pattie 6.99
(Doubly better with cheese .60 extra)
2. HAMBURGER ¼ lb. 2.69
CHEESEBURGER ¼ lb. 2.99
3. PATTY MELT HAMBURGER ¼ lb. 4.99
Grilled onions and swiss cheese on rye bread.
4. HOT BEEF MANHATTAN 6.99
With Fresh Mashed Potato and Gravy and Side
5. GRILLED TENDERLOIN SANDWICH 4.99
6. BREADED TENDERLOIN SANDWICH 4.99
The Big One!
7. BREADED MINI TENDERLOIN 3.99
When you don't want the big one!
8. ICELANDIC COD SANDWICH 5.99
Breaded or Grilled.
FRESH WATER PERCH SANDWICH 6.99
Breaded or Grilled.
9. CHICKEN STRIP SANDWICH 4.99
10. ROAST BEEF SANDWICH 4.59
11. REUBEN SANDWICH 4.95
12. MALIBU SANDWICH 6.99
Try it on Rye! Swiss Cheese/Ham/Chicken Pattie – Grilled or Breaded

13. BREAKFAST SPECIAL 5.99
2 Farm fresh eggs, any style; choice of bacon, sausage or ham. American fries,
buttered toast, coffee or tea included.

14. HOT OR COLD HAM SANDWICH 3.99

15. BARBECUED BEEF SANDWICH 3.49
Other favorites available. BLT's, CLUBS, ETC.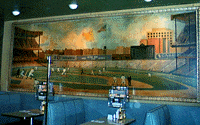 HOME STYLE SOUPS
Bowl Cup
Chili with Bean 3.79 2.99
2-Way Chili with Bean, Onion 3.79 2.99
3-Way Chili with Bean, Onion and Cheese 3.99 3.29
Bean 3.29 2.99
Cream or Cheese 3.99 3.29
Chicken Noodle 3.29 2.99
Vegetable 3.29 2.99
French Onion 3.99
SALADS
ACME SALATA Regular 4.99 Large 6.99
Mixed Greens, Green Onions, Feta Cheese, Black Olives, Tomato, Mandarin Oranges, Pineapple
with Olive Oil and Red Wine Vinegar Dressing.
CHEF HAM AND CHEESE 7.49
Topped with Eggs and Tomatoes
CHEF BACON AND CHEESE 7.49
CHEF HOT CHICKEN SALAD 7.99
COMBINATION 3.49
COLE SLAW 1.49
COTTAGE CHEESE 2.49
With Pineapple extra .85
APPLE SAUCE 1.49
DRESSINGS: Choice of Vinegar and Oil; Thousand Island, Chef's Delight (Helen's); French;
Ranch Poppy Seed; Creamy Italian; Low Cal French; Honey Mustard; Blue Cheese (.30 extra)
POTATOES
French Fries Basket 1.49
American Fries 2.49
Fresh Mashed Potatoes and Gravy 1.49
Baked with Sour Cream and Butter 2.49
Various Desserts, Full Pies Available for Take Home
Beverages - just about whatever you want
Carry Out Available
NEW: ACME Razorback BBQ Menu - Try it Today!!
Also BIG DADDY'S PIZZA now available for fast delivery
For over half a century "The Acme" is Good Food, Fun, and Family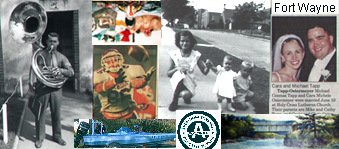 Charles Tapp Sr. Chris, Rosie, Cathy, Mike, Cara, Michael, Rudolf Zielke painting