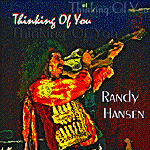 RANDY HANSEN 'Thinking of you' (RUDOLF MUSIC)
Back in 1980 Guitarist/bassist/vocalist RANDY HANSEN releases his debut LP on Capitol Records. A few years before the LP release he made some demos at the Automat in San Francisco. Charles Tapp from EYE/TIMMY was brought in for the drum parts and former CHICAGO vocalist Bill Champlin sang backing vocals. RUDOLF MUSIC, the same label that brought you the sensational TIMMY and EYE releases, has now released this demo.
Most of the included songs also appeared on Randy's debut LP, but still these are the original versions and there's also one unreleased song. This is the titletrack of the CD,
"Thinking of you", a nice late 70s melodic rocker like BAD BOY, HARLEQUIN with a very catchy chorus that features very good melodic harmonyvocals (a la REO SPEEDWAGON). "Dancin' with me" follows and is JIMI HENDRIX influenced groovy rocker. "Don't pretend with your friends" is up next and bring back memories of the pop ballads from ALICE
COOPER in the late 70s, not really a song to look out for.
Much better is the following track "Champagne & cocaine", a nice uptempo melodic rocker with a 70s approach (a la ACE FREHLEY). In the same style is "Millionaire". The remaining four songs are demo jams from Randy that see much of his Hendrix guitar influences. More info on this or any other Rudolf Music release at: http://www.rudolfmusic.com
Rating: 7/10 Strutterzine - The Netherlands